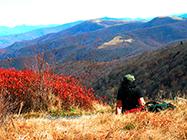 Building Cancer Care Collaboratives for the Seventh Generation - SPOC
Rodney Haring, PhD, MSW, will discuss how treaty and wampum conversations have impacted the cancer care of Indigenous populations. Building on this foundation, Dr. Haring will describe how to create culturally congruent practices that will improve the quality of research and care to benefit Native Nations. Additionally, he will lead attendees in thinking about new ways to work together to provide sustainable cancer care for succeeding generations.
Target Audience
These courses are intended for medical, radiation, and surgical oncologists, hematologists, advanced practice nurses, registered nurses, physician assistants, radiologic technologists, researchers, pharmacists, trainees, allied health personnel, and others who are interested in care for patients and survivors in North Carolina.
Learning Objectives
Utilize and discuss treaty conversations in cancer care through Native Nation, to Cancer Center, to Federal relationships including collaboratives with adjacent rural, suburban, and urban intersections.

Conceptualize how to build culturally congruent practices of quality improvement round tables, program evaluation, and research programming towards Native Nation beneficence.

Practice dream storming towards co-creating sustainable cancer care collectives towards healthy generations.
Handouts
Taking the Course
To continue, click the button Take Course.
If you do not see the button, please ensure that you are logged in. If you are logged in and still don't see the button, please contact us at unclcn@unc.edu or (919) 445–1000.
 

Rodney Haring, PhD, MSW

Director
Center of Indigenous Cancer Research
Roswell Park Comprehensive Cancer Center
This Non-Credit Course does not have accreditation. It only offers general participation certificates.