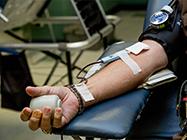 Laboratory Workup for Transfusion Reactions - SPOC
Webinar Information
Webinar Description
Join Transfusion Medicine and Blood Bank Fellow, Mariama Evans, MD, for a review of transfusion reactions and their laboratory workup. Specific topics to include the most common transfusion reactions seen in cancer patients and the laboratory techniques utilized, such as Direct Antiglobulin Test (DAT) and elutions.
Learning Objectives
List the most common transfusion reactions and describe their manifestations.

Explain what steps to take if a transfusion reaction is suspected.

Discuss common laboratory techniques used to work up transfusion reactions.
Webinar Documents
Handouts
Webinar Registration
You must have an account and be logged in to register. Please contact us with any questions at unclcn@unc.edu or (919) 445–1000.
 

The mission of Advanced Practice Provider (APP) Grand Rounds webinar is to provide a forum for high-quality hematology/oncology-based content. The purpose of this monthly series is to share expertise and create a structured network for our vast community by promoting professional development, creating opportunities for collaboration, and using evidence-based education to increase knowledge and skills to foster ongoing quality patient care.

These webinars provide FREE continuing education credit.
 

Mariama Evans, MD

Blood Bank and Transfusion Medicine Fellow, PGY-5
Department of Pathology & Laboratory Medicine
UNC Lineberger Comprehensive Cancer Center
UNC School of Medicine
University of North Carolina at Chapel Hill
This Non-Credit Course does not have accreditation. It only offers general participation certificates.
You must have an account and be logged in to register for and to access the course.
Requirements for Receiving Free Continuing Education Credits
Watch the video

Complete the assessment with a score of 80% or better

Complete the evaluation

Download the appropriate certificate
Please see our detailed instructions for more information on completing the Self-Paced, Online Courses and receiving credit.