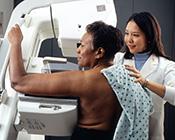 The Vital Role of Primary Care Providers in Breast Cancer Survivorship Care - SPOC
This lecture will highlight the important role  of primary care providers and provide helpful information that will empower them to confidently provide comprehensive and collaborative care to patients living with breast cancer and beyond.
Target Audience
These courses are intended for medical, radiation, and surgical oncologists, hematologists, advanced practice nurses, registered nurses, physician assistants, radiologic technologists, researchers, pharmacists, trainees, allied health personnel, and others who are interested in care for patients and survivors in North Carolina.
Learning Objectives
Recognize some of the most common long-term effects of cancer treatment for breast cancer survivors and recommend therapeutic measures for each: Osteoporosis, Peripheral Neuropathy, Cardiotoxicity, "Chemo Brain", Anxiety/Depression, Fatigue

Describe how the SCP can be utilized in your practice as a tool to better provide comprehensive and collaborative care for breast cancer survivors

Recognize that hormonal contraception/hormone replacement therapy are contraindicated in women with history of hormone receptor positive breast cancer
Taking the Course
To continue, click the button Take Course.
If you do not see the button, please ensure that you are logged in. If you are logged in and still don't see the button, please contact us at unclcn@unc.edu or (919) 445–1000.
 

Allison Beam, MPAP, PA-C

Physician Assistant, Breast Oncology
Division of Oncology
UNC Lineberger Comprehensive Cancer Center
UNC School of Medicine
University of North Carolina at Chapel Hill
Presenter Disclosure Information
Allison Beam, MPAP, PA-C has no relevant financial relationships with commercial interests as defined by the ACCME.
The Greensboro Area Health Education Center is approved as a provider of nursing continuing professional development by the North Carolina Nurses Association, an accredited approver by the American Nurses Credentialing Center's Commission on Accreditation.
Available Credit
1.00

ACPE Pharmacist

Accreditation Council for Pharmacy Education

The University of North Carolina Eshelman School of Pharmacy is accredited by the Accreditation Council for Pharmacy Education as a provider of continuing pharmacy education. To receive CE credit, participants must complete the CE attendance form and the online evaluation of the program (instructions to be emailed). Statements of credit can be viewed and printed in CPE Monitor in approximately 2 to 3 weeks.

**No partial credit will be available**

1.00

ACPE Pharmacy Tech

Accreditation Council for Pharmacy Education

The University of North Carolina Eshelman School of Pharmacy is accredited by the Accreditation Council for Pharmacy Education as a provider of continuing pharmacy education. To receive CE credit, participants must complete the CE attendance form and the online evaluation of the program (instructions to be emailed). Statements of credit can be viewed and printed in CPE Monitor in approximately 2 to 3 weeks.

**No partial credit will be available**

1.00

ASRT

Approved by the American Society of Radiologic Technologists (ASRT).

Tim Poe, Director of Telehealth

1.00

NCPD/CNE

Greensboro Area Health Education Center is approved as a provider of nursing continuing professional development by the North Carolina Nurses Association, an accredited approver by the American Nurses Credentialing Center's Commission on Accreditation

Event Coordinator: Lisa Guy, RN, BSN, CCRN

1.00

Participation

UNC Lineberger Cancer Network certificate of participation.

Tim Poe, Director of Telehealth