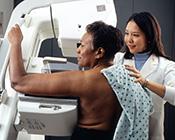 The Vital Role of Primary Care Providers in Breast Cancer Survivorship Care - SPOC
Webinar Information
Webinar Description
Allison Beam, MPAP, PA-C highlights the important role of primary care providers and provide helpful information that will empower them to confidently provide comprehensive and collaborative care to patients living with breast cancer and beyond.
Learning Objectives
Recognize some of the most common long-term effects of cancer treatment for breast cancer survivors and recommend therapeutic measures for each: Osteoporosis, Peripheral Neuropathy, Cardiotoxicity, "Chemo Brain", Anxiety/Depression, Fatigue

Describe how the SCP can be utilized in your practice as a tool to better provide comprehensive and collaborative care for breast cancer survivors

Recognize that hormonal contraception/hormone replacement therapy are contraindicated in women with history of hormone receptor positive breast cancer
Webinar Documents
Handouts
Webinar Registration
You must have an account and be logged in to register. Please contact us with any questions at unclcn@unc.edu or (919) 445–1000.
 

The Cancer Treatment in North Carolina: Patient Centered Care webinar series covers components of patient-centered health care delivery in cancer treatment and survivorship. The focus of this series is not disease-specific but includes discussion of approaches to improving care delivery for all cancer patients and survivors.

These webinars provide FREE continuing education credit.
 

Allison Beam, MPAP, PA-C

Physician Assistant, Breast Oncology
Division of Oncology
UNC Lineberger Comprehensive Cancer Center
UNC School of Medicine
University of North Carolina at Chapel Hill
This Non-Credit Course does not have accreditation. It only offers general participation certificates.
You must have an account and be logged in to register for and to access the course.
Requirements for Receiving Free Continuing Education Credits
Watch the video

Complete the assessment with a score of 80% or better

Complete the evaluation

Download the appropriate certificate
Please see our detailed instructions for more information on completing the Self-Paced, Online Courses and receiving credit.