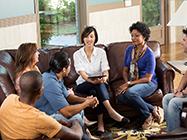 Psycho-Oncology: Supporting the Mental Health of Oncology Patients - SPOC
Psycho-oncology or psychosocial oncology is a sub-specialty of oncology that addresses the psychological, behavioral, emotional, and social issues that arise for cancer patients and their families. A cancer diagnosis, the treatments that follow, and the adverse effects of cancer treatments are all very distressing for patients. Psycho-oncology includes providers from various disciplines that work together as a team to best support the complex needs people face when struggling with cancer. This lecture focuses on the psychiatric care of patients with cancer and looks at the common psychiatric syndromes seen in psycho-oncology, appropriate medications and treatment plans, and how psychiatry can best support people with cancer. Untreated or poorly managed psychiatric syndromes, such as depression and anxiety, can have a profound negative impact on decision-making, compliance, and quality of life during cancer care. 
Target Audience
These courses are intended for medical, radiation, and surgical oncologists, hematologists, advanced practice nurses, registered nurses, physician assistants, radiologic technologists, researchers, pharmacists, trainees, allied health personnel, and others who are interested in care for patients and survivors in North Carolina.
Learning Objectives
Identify psychiatric syndromes that may impede oncologic care. 

Improve your understanding of psychopharmacology in the cancer setting. 

Recognize when it is appropriate to refer to psycho-oncology. 
Handouts
Taking the Course
To continue, click the button Take Course.
If you do not see the button, please ensure that you are logged in. If you are logged in and still don't see the button, please contact us at unclcn@unc.edu or (919) 445–1000.
 

Melissa Holt, DNP, PMHNP-BC, MSW

Clinical Instructor 

UNC Lineberger Comprehensive Cancer Center
UNC School of Medicine
University of North Carolina at Chapel Hill
This Non-Credit Course does not have accreditation. It only offers general participation certificates.