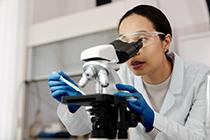 Oncology Career Pathways - LIVE
COURSE CLOSED
This course closed on Tuesday, October 4, 2022 - 11:59pm.
This course will be turned into a Self-Paced, Online Course within a month of the original air date.
Come explore career options in nursing, pharmacy, radiology, and cancer registry with professionals in the field. The presenters will highlight career paths that are opened by earning an Associates Degree.
Target Audience
These webinars are designed for students enrolled in health sciences programs and the community colleges across the state of North Carolina.
The North Carolina Community College Oncology webinars provide opportunities for students to become more familiar with strategies necessary for caring for cancer patients with the goal of improving cancer care and elevating interest in and awareness of oncology-related professions.
Learning Objectives
Describe career options in nursing
Discuss career options in pharmacology
List career options in radiology
Recall career options in cancer registry
Handouts
Flyers
Please feel free to share the flyer and/or this webpage.
Study Guide
The study guide helps in note taking.
Taking the Course
To continue, log in and click the button Take Course.
If you do not see the button, please ensure that you are logged in. If you are logged in and still don't see the button, please contact us at unclcn@unc.edu or (919) 445–1000.
 

Patti Morfeld, RN BSN OCN

Clinical Nurse IV
Adult Outpatient Infusion Center and Lab Draw Station
UNC Lineberger Comprehensive Cancer Center
UNC School of Medicine
University of North Carolina at Chapel Hill

 

Shanybel Santer Torres, CPhT

Specialty Pharmacy Technician
UNC HealthCare
UNC Lineberger Comprehensive Cancer Center
UNC School of Medicine
University of North Carolina at Chapel Hill

 

Jessica Church, MPH, RT(R)(T), CMD

Program Manager, Radiation Therapy and Medical Dosimetry Education
Department of Radiation Oncology
UNC Lineberger Comprehensive Cancer Center
UNC School of Medicine
University of North Carolina at Chapel Hill

 

Isaiah Zipple, CTR

Certified Tumor Registrar, Team Lead
UNC Health – UNC Medical
UNC Lineberger Comprehensive Cancer Center
UNC School of Medicine
University of North Carolina at Chapel Hill