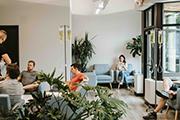 North Carolina Cancer Challenge 2020: Improving Enrollment into Cancer Clinical Trials SPOC
This lecture is an interactive presentation and discussion to consider barriers to cancer clinical trial enrollment in North Carolina and potential approaches to address this. Topics will include the importance of patient and provider engagement, education and resources for identifying research opportunities and available trials, barriers and mitigation strategies to address population disparities in trial enrollment, and other issues. This session aims to provide information and strategies on participant recruitment, allowing individual study teams and/or clinicians from across the state to determine how research best fits into their individual models and how to present research participation as an option to all patients.
Target Audience
These courses are intended for medical, radiation, and surgical oncologists, hematologists, advanced practice nurses, physician assistants, radiologic technologists, researchers, pharmacists, trainees, and others who are interested in care of patients with cancer in North Carolina.
Learning Objectives
Explain the importance of the clinician to patient awareness and acceptance of clinical trial participation
Describe the trial recruitment process Identify feasible engagement strategies for non-research clinicians to incorporate into practice
Identify resources for connecting patients to research education or trial opportunities
Distinguish possible strategies to mitigate the diversity disparity in research
 

Emily Olsson, CCRP

Program Manager
Research Recruitment and Retention
UNC Lineberger Comprehensive Cancer Center
UNC School of Medicine
University of North Carolina at Chapel Hill
 

Alicia Bilheimer, MPH

Administrative Director
Community and Stakeholder Engagement Program
UNC Lineberger Comprehensive Cancer Center
UNC School of Medicine
University of North Carolina at Chapel Hill
Presenter Disclosure Information
Emily Olsson, CCRP, and Alicia Bilheimer, MPH, have no relevant financial relationships with commercial interests as defined by the ACCME.
This Non-Credit Course does NOT have accreditation for continuing education credits.
The course offers only general participation certificates.