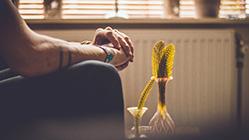 Cryotherapy for Preventing Chemotherapy-induced Neuropathy: Proven, Promising-appearing, or Hogwash? - SPOC
Chemotherapy-induced neuropathy is a major clinical problem that can lead to persistent issues for cancer survivors and can even limit the use of planned chemotherapy treatment during the course of care. Cryotherapy is already an established treatment for other chemotherapy induced conditions such as alopecia and mouth mucositis. This course will explore the evidence for using this low-cost intervention to reduce the incidence/severity of chemotherapy-induced neuropathy.
Target Audience
These courses are intended for medical, radiation, and surgical oncologists, hematologists, advanced practice nurses, registered nurses, physician assistants, radiologic technologists, researchers, pharmacists, trainees, allied health personnel, and others who are interested in care for patients and survivors in North Carolina.
Learning Objectives
Discuss the current guidelines for the treatment of chemotherapy-induced neuropathy.

Identify examples of successful use cases of cryotherapy treatments in other chemotherapy related conditions.

Evaluate the current evidence supporting the use of cryotherapy to treat chemotherapy-induced neuropathy.
Handouts
Taking the Course
To continue, click the button Take Course.
If you do not see the button, please ensure that you are logged in. If you are logged in and still don't see the button, please contact us at unclcn@unc.edu or (919) 445–1000.
 

Charles Loprinzi, MD

Medical Oncologist
Mayo Clinic
 
This Non-Credit Course does not have accreditation. It only offers general participation certificates.