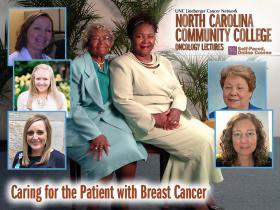 Caring for the Patient with Breast Cancer – SPOC
How to care for the breast cancer patient using multiple modalities; medical oncology, surgical oncology, and radiation oncology, with a brief examination of chemotherapy side effects and financial toxicities of treatment, a lecture for nursing students. The lecture will include diagnostic vs screening mammograms, biopsies, excisional biopsy, lumpectomy, mastectomy, lymph node management and lymphedema prevention, and management. Discussion will cover pre-op and post-op management. Lecture will not cover breast reconstruction.
Target Audience
These courses are designed for students enrolled in health sciences programs and the community colleges across the state of North Carolina.
Learning Objectives
Identify modalities of breast cancer treatment; medical, surgical, and radiation oncology.

Discuss financial toxicity of the breast cancer patient receiving treatment for newly diagnosed disease or who are metastatic.

Explain the use of aromatase inhibitors and Tamoxifen in the hormone receptor positive breast cancer patient.

Demonstrate knowledge concerning standard chemotherapy for patients in treatment for breast cancer.

Surgical management of breast cancer patient.
 
 

Amy DePue, BSN RN OCN CBCN

Oncology Nurse Navigator
UNC Breast Center
UNC Lineberger Comprehensive Cancer Center
UNC School of Medicine
University of North Carolina at Chapel Hill
 

Betsy Blanton, BSN RN OCN

Oncology Nurse Navigator
UNC Breast Center
UNC Lineberger Comprehensive Cancer Center
UNC School of Medicine
University of North Carolina at Chapel Hill
 

Lea McDonnell, BSN RN

Oncology Nurse Navigator
UNC Breast Center
UNC Lineberger Comprehensive Cancer Center
UNC School of Medicine
University of North Carolina at Chapel Hill
 

Emily Riddle, BSN RN

Oncology Nurse Navigator
UNC Breast Center
UNC Lineberger Comprehensive Cancer Center
UNC School of Medicine
University of North Carolina at Chapel Hill
 

Betsy Wehe, BSN RN

Oncology Nurse Navigator
UNC Breast Center
UNC Lineberger Comprehensive Cancer Center
UNC School of Medicine
University of North Carolina at Chapel Hill