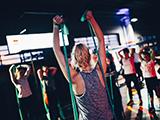 The Benefits of Exercise for Cancer Patients SPOC
Cardio-oncology is a newly expanding area of cancer rehabilitation in the exercise world. As a Clinical Exercise Physiologist part of the Cardiac Rehabilitation team, Gabrielle Brennan, MS, ACSM EP-C, CET, has a Master of Science in Exercise Physiology with a specialization in Cancer Care. Previously, she worked as an Exercise Specialist as the program director for the LiveFit Cancer Exercise Program. She will explore the program and numerous benefits patients gained from this program. The American College of Sports Medicine guidelines for cancer patients will also be discussed.
Target Audience
These courses are intended for medical, radiation, and surgical oncologists, hematologists, advanced practice nurses, registered nurses, physician assistants, radiologic technologists, researchers, pharmacists, trainees, allied health personnel, and others who are interested in care for patients and survivors in North Carolina.
Learning Objectives
Explain the components of a cancer exercise program

Describe the American College of Sports Medicine Guidelines for exercise in cancer patients

Discuss the effect of exercise on cancer patients
Taking the Course
To continue, click the button Take Course.
If you do not see the button, please ensure that you are logged in. If you are logged in and still don't see the button, please contact us at unclcn@unc.edu or (919) 445–1000.
 

Gabrielle Brennan, MS, ACSM EP-C, CET

Clinical Exercise Physiologist
Cardiac Rehabilitation
UNC Lineberger Comprehensive Cancer Center
UNC School of Medicine
University of North Carolina at Chapel Hill
This Non-Credit Course does NOT have accreditation for continuing education credits.
The course offers only general participation certificates.