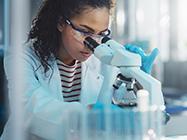 Sep 6 - Paths to Careers in Pathology and Clinical Sciences
Feedback
Your feedback on the organization and content of this course is critical for us to provide you and future classes with the best possible course. Please do not hesitate to provide your comments or criticisms during class or if you would like feel free to contact the class coordinators if you have comments or criticisms; these comments and/or criticisms will have no impact on your grading for the course.
Class Description:
The Introduction to Pathology class is designed for upper level undergraduate and MS students who are interested in pathology, human tissue function, disease progression and are considering graduate school or a health professions career. The course is designed to incorporate both didactic seminars and group paper-based discussions to understand the current state of specific topics in pathobiology. This course is designed to prepare the student for future independent disease research or a health profession..
Suggested Textbook Reading:
Robbins Basic Pathology and/or Robbins and Cotran Pathologic Basis of Disease
Goals/Objectives for students:
Develop knowledge of pathologies in various human tissues.
Gain an understanding of how tissue systems are organized and primary diseases in the tissues.
Learn how to identify alterations in diseased tissue compared to normal tissue.
Acquire knowledge about signaling pathways and mechanisms that are altered in diseases.
Handouts:
Handouts will become available as the course progresses. Please check the handouts page for additions.
Previous Lectures:
After each course is over, recordings of the previous lectures will be available for viewing at a later time.
Emails:
Please note that after registering for this course, you will receive a separate confirmation email for each class within the course. We apologize for the inconvenience of sending so many emails at once. Moving forward, you will receive reminder emails approximately one day and one hour prior to each individual class, but only for the pending class.
 

Staci Keene, MD

 

Assistant Professor, Hematopathology and Autopsy Pathology
Department of Pathology and Laboratory Medicine
University of North Carolina at Chapel Hill
 

Mariama Evans, MD

 

Blood Bank and Transfusion Medicine Fellow, PGY-5
Department of Pathology & Laboratory Medicine
University of North Carolina at Chapel Hill
 

Christian Long, MLS

 

Medical Technologist
Division of Clinical Laboratory Science
University of North Carolina at Chapel Hill
 

Molly Parrish, BS

 

Graduate Student
Pathobiology and Translational Science
University of North Carolina at Chapel Hill