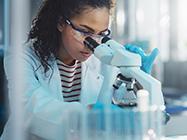 Sep 23 — UNC Pathology Experience
UNC Pathology Experience
This class consists of a field trip to UNC to visit their pathology labs. Please talk to your instructor about transportation and other details.
Please note that this is a Saturday and the class—including transportation to and from UNC—will take up most of the day.
Emails:
Please note that after registering for this course, you will receive a separate confirmation email for each class within the course. We apologize for the inconvenience of sending so many emails at once. Moving forward, you will receive reminder emails approximately one day and one hour prior to each individual class, but only for the pending class.