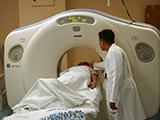 An Introduction to Radiation Oncology – SPOC
An introductory course on radiation oncology and its role in conjunction with surgery and systemic therapy in multidisciplinary cancer care. Broad overview of a variety of indications for radiation, logistics of radiation treatment delivery, and side effects of treatment.
Target Audience
These courses are designed for students enrolled in health sciences programs and the community colleges across the state of North Carolina.
Learning Objectives
Discuss the role of radiation therapy in the context of multidisciplinary cancer care (ie radiation, surgery, systemic therapy).

Describe (in broad terms) the logistics of external beam (x-ray) radiation therapy treatments.

Differentiate between external beam (x-ray) radiation treatment and brachytherapy (inserted radiation) treatment.
 
 

Ashley A. Weiner, MD, PhD

Assistant Professor
Radiation Oncology Residency Program Director
Department of Radiation Oncology
UNC Lineberger Comprehensive Cancer Center
UNC School of Medicine
University of North Carolina at Chapel Hill