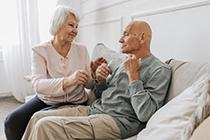 Caring for Patients with Head and Neck Cancers - LIVE
We will discuss common cancers of the head and neck along with including information about risk factors, signs and symptoms, treatment, and survival. The side effects of treatment will delve into emotional impact and quality of life issues. The conversation will also include important information on the HPV vaccine.
Target Audience
These webinars are designed for students enrolled in health sciences programs and the community colleges across the state of North Carolina.
The North Carolina Community College Oncology webinars provide opportunities for students to become more familiar with strategies necessary for caring for cancer patients with the goal of improving cancer care and elevating interest in and awareness of oncology-related professions.
Learning Objectives
Coming Soon
Handouts
2-Up Version (coming soon)
3-Up Version (coming soon)
Flyers
Please feel free to share the flyer and/or this webpage.
PDF Flyer (coming soon)
JPG Flyer (coming soon)
Study Guide
The study guide helps in note taking.
Taking the Course
To continue, log in and click the button Take Course.
If you do not see the button, please ensure that you are logged in. If you are logged in and still don't see the button, please contact us at unclcn@unc.edu or (919) 445–1000.
 

Trevor Hackman, MD FACS

Vice Chair and Assistant Professor
Department of Otolaryngology/Head and Neck Surgery
UNC Lineberger Comprehensive Cancer Center
UNC School of Medicine
University of North Carolina at Chapel Hill

 

Catherine J. Lumley, MD

Assistant Professor
Department of Otolaryngology
UNC Lineberger Comprehensive Cancer Center
UNC School of Medicine
University of North Carolina at Chapel Hill